Khodamic Lotus Stone Pendant Extracted | Love Talisman | Sales & Business Personal Talisman | Interpersonal Relationship Talisman
About the item
Materialized by spiritualists at a lake in Wonosobo, Central Java, Indonesia. These stones come highly recommended by all involved. During the materialization process many flowers a blue energy appeared in certain flowers they were collected and contained these stones.
Gifted by the beings in the other realm and through the mercy of God/Allah SWT. The khodams of these stones are suitable for those of all religions not only Muslims. The stones have inside them parts of the of the flora of the lake within them. They have a cooling energy and calming, the benefits of this stone:


- Calms the heart

- Improves love and relationships with people

- Attract younger men/women more easily
- Khodams are of high level, help to infuse positive energy into surroundings and one's life
- Promotes peace & harmony, helps display loving kindness to all
- Soothes the soul, helps remove overbearing negative thoughts
- Helps pull prosperity energy towards keeper
- Suitable for all religions
- All round protection
- Improved interaction with others
- Strong energy but not overbearing

Specifications

Approximate length: 1cm Approximate Width: 2cm Free Items: 1000 flower oil sample bottle, instruction manual upon request, free talisman pouch as below


Activation and maintenance
Methods of keeping the items are recommended in the guidance booklet.There is no need for activation of the items on your side as they are prepared by our shamans/ustaz before they are sent to you. These items are khodamic and there is no need for you to do anything accept maintain them. Maintenance of these items is by applying the necessary oils given with the item. We will provide you with a sample bottle of either 1000 flower oil or zafaron oil with these items depending on which is suitable for that item. Apply those specific oils on a Friday evening. For stones expose to moonlight during a full moon to further empower them. All everyone a Guidance Booklet will be provided with guidance on how to maximize usage and connect with these items. Please ask us for this is you require.
What is materialization?
Materialization of stones and other heritage items are conducted by experts/spiritualist who use various processes to accomplish this. Materializations or apportation are modern day miracles that have been occuring for centuries especially in South East Asia. Through the mercy of God almighty/Allah SWT these items are allowed to be extracted into our realm. In Malaysia/Indonesia they sometimes literally drop from the sky in balls of light, appear glowing in the distance as glowing lights or are extracted from the ground using supernatural means.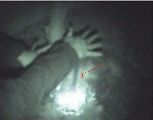 Photo of keris being extracted/materialized
Please note:
- We have more than one of this stone/item, they all vary as they are unique items. A photo will be sent to you through request or before dispatch if you choose to pay first.
- Upon confirmation of address, for some items we may ask for your mother's name if you are a male and father's name if you are female to complete the ritual of connecting to keeper.
- Some Items they will be blessed by ustaz one last time before sending.
- If a ring you will be asked about your ring size.
- Our rings are made by hand by village artisans so the finish is not machine-like or western.
- If at any point in the future after some time of trying you find that the energies of the item is not suitable for you, you can plant the item under an old tree or release in running water (river/sea).
- All items will come with a guidance booklet if you so require please let us know. Thank You.
Write Review
Your Name:
Your Review:
Note:

HTML is not translated!
Rating:
Bad
Good
Enter the code in the box below: