Khodamic stone power, influence, protection talisman materialized item from othr realm ring 01 (order now)
About Us
We are a group of 3 friends of different faiths that have come together to make accessible to the world high-quality powerful amulets/talismans that are sourced directly from renown from spiritual masters/shamans in South East Asia. We are working professionals in Marketing, IT and Banking respectively. But one of our sisters is assisting us in postage and other admin matters, without which this website would not be possible.
We made this website out of our responsiblity to God, to help people and also it is closely related to our hobby, the spiritual world. A portion of profits from this website is donated to the needy. We are unable to give any further
discounts, as we incurred costs to get these items from shamans to you, to maintain this website and provide this service to benefit mankind.
About this amulet/talisman 7 Prince Stone 01
The extraction process was conducted by two Indonesian Shamans who are also Islamic Ustazes/Ulamas. During the exchange process with beings from another realm. During each extraction process only a few stones are usually released from the otherrealms. In this batch, 8 stones were extracted in the exchange process together with a couple of yassin coins and a keris. We managed to obtain 7 out of the 8 stones. Some have been procured and some we have kept for our own use, the remainder is what you see listed here. Rare khodamic items as such have a retail value of above USD 450 or more, that alone being in South East Asia.
The nature of benefits that this stone is said to afford its keeper, InsyaAllah/God willing :
- Provides power of influence over others.
- Instills respect by others on its keeper.
- Provides protection in times of need.
- Helps in prosperity & interpersonal relationships.
- Improved spiritual/religious development, can be taken to places of prayer and worn/held during prayers/salat/dzikir.
- It may be able to afford other benefits to its user, which we might not be able to sense yet. It is therefore safe to say that the khadams will unravel their powers to its owner through time.
This is a one of kind stone, although it may look in appearance similar to the others of this extraction batch but they are all different in shape, size or other features. Please understand that these are not items produced in a factory or even mined, they are gifts through the grace of Allah SWT/God from beings of the other realm. Once this item is sold that is it, whoever has the fate to own it is blessed. To learn more about extraction from the unseen realm visit our link here.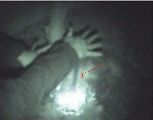 Photo of an extraction process
How to use
this item please read the We will provide you an Instruction Manual if necessary with some techniques on how to better connect with the stone's khadam and maintain the stone. The most basic maintainance of this item requires application of 1000 flower oil or zafaron oil on a weekly or at least monthly basis, followed by voicing intent (what you want). Item is to be kept with a few grains of glutinous yellow rice/glutinous rice, if rice breaks just change it. Item comes with a few grains of glutinous yellow rice.

Note: Before you rent (purchase) or if you have questions about this item please read the FAQ first. Although maintenance is simple this item might not be for everyone as the energies are relatively strong.
Prohibitions
- Do not step over.
- Keep at above waist level, unless of course stone is made into or worn as a ring. If worn as a ring when kept at home place above waist level.
- Do not miss the recommended practice (advised above).
- Do not boast about this stone or of its powers even when it has rewarded you.
- One should refrain from showing this stone to people generally (people who don't believe usually will undermine its effectiveness hence providing negative energy - casting the evil eye).
Specifications
Origin: Indonesia Condition: New Approximate Size: Length of stone: 2 cm Width of stone: 1.5 cm Thickness: 1 cm Standard Ring Sizes: 6, 7, 8, 9 available ring sizes pls provide us your ring size upon purchase.

All items come with free sample bottle of 1000 flower oil and a guidance booklet.
NOTE : We may have more than one of this item hence the item you receive may vary slightly but they are mostly similar. Rest assured powers described are the same.
Write Review
Your Name:
Your Review:
Note:

HTML is not translated!
Rating:
Bad
Good
Enter the code in the box below:
There are no additional images for this product.