Khodamic Fire Naga Ring Powerful Materialized Item From Othr Realm Talisman (order now)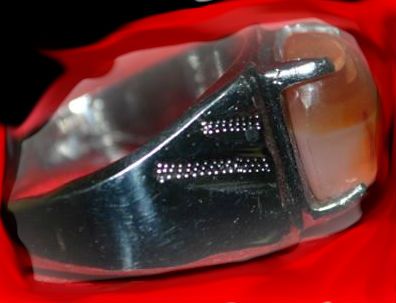 This item was materialized in Nov 2013. The place where it was extracted is known to have a mystical straight standing black stone. That area is known to be a mystical area. During the meditation process most at the meditation encountered visibility of a dragon that arose from the fire that was there. It was brief but visible. The contact was made with beings taking care of that are in the other realm and an exchange process was done brining this stone and some others like it out from the other realm. Just after the extraction process the heat felt from this stone was so hot that we could not hold it in our hands.
When brought to our ustaz in Malaysia for khodamic verification he said that he detects not only strong energy but also the following benefits:
- Good for psychic protection, spiritual fencing
- Protection from illnesses
- Invulnerability, from falls, cuts etc.
- General prosperity that comes from protection that it provides.
Specifications
Circumference of ring around 1 cm, Standard Ring size available: 6, 7, 8, 9. Please provide us your ring size upon purchase. Dowry USD 195
As usual a guidance booklet will be provided and dhikr booklet for Muslims. Free sample bottle 1000 flower oil or zafaron oil depending on the item.
Note : Please note that we hvae more than one of this item they vary in design slightly but specifications, color and powers described are the same.
Write Review
Your Name:
Your Review:
Note:

HTML is not translated!
Rating:
Bad
Good
Enter the code in the box below:
There are no additional images for this product.