Powerful Khodamic Black Keris From Jawanese Silat Guru Family Heirloom
About this Keris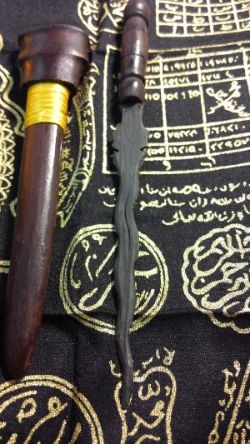 We had heard from acquaintances of a Guru in Southern Jawa who had a collection of mystical kerisses. The Guru upon meeting blessed us with these items, we are greatful for this.
This Guru This set of kerisses are from a Silat Martial Artist in Southern Jawa. This item together with a couple of other kerisses we ascertained from him. They possed energy when we touched them something we could readily feel. We asked Guru to part with some items of his but he was hessitant as he loved them all equally. After convinving him to part with some items of his since we had come from so far we agreed to let us have the kerisses we fancied. The reason we chose these kerisses besides the powers we felt they are simple eligent looking and most of all smaller in size to regular kerisse hence easy to be concealed and transported. Although 3 of us trust our instincts Hilmi's Ustaz helped to verify its powers:
- Increased inner energy (chi/prana)
- Increased prosperity (God willing, and mainly attributed to spiritual fencing that it provides)
- Power over others, good to keep in office hidden or visible for bosses, managers, business owners, to keep to make sure their employees follow their will.
- General spiritual fencing against negative energies
- Anti black magick
- Emergency impenetrability (so it is said but we don't test it for this)
Approx. Length: 19-20 cm. Free: Sample bottle of Misik or Zafaron oil will be provided whatever is available.
Note: This is one of the items we have, before shipping photo will be sent of the current item we have and it will also be blessed by Ustaz.
How to care for item?
Similar to khodamic stones, application of oil on Friday evenings is required. For this item application of zafaron oil. Guidance booklet will be provided for further guidance. Once or twice a year around a full moon day clean the keris blade with lemon or lime juice and reapply misik/zafaron oil. As usual a guidance booklet, will be provided. If required please ask us.
Write Review
Your Name:
Your Review:
Note:

HTML is not translated!
Rating:
Bad
Good
Enter the code in the box below:
There are no additional images for this product.