NyiRoRo Kidul Khodamic Mystical Gem Stone Attraction Love Wealth Talisman Amulet.



Click to enlarge

| | |
| --- | --- |
| Price: | $527.00 |
| Availability: | 2 |
| Model: | NyiroroKidulBlueStone |
| Average Rating: | Not Rated |



NyiRoRo Kidul Khodamic Mystical Gem Stone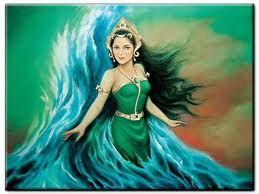 We are excited to bring to you these latest batch of extracted items, which we have been in search of for a long time. Stories abound on this vastly powerful spirit or deity that dwells in the Southern Sea of Java. There are many stories that surround this deity. We will relate to you the story that was told to us by the extractors group.
Nyiroro Kidul is the chief of a realm in the Southern Sea of Java. She was known during her lifetime to be a princess that had extraordinary charm and was able to charm anyone with her words and beauty. She was kidnapped by pirates and disappeared. She has been known to appear in various forms as a mermaid of sorts. Those that have had contact with her say that she has been known to be able to change shapes. Some believe that her story can be traced back to pre-Hindu-Buddhist times. Whatever it is she is renown and her story has been passed down from generation to generation. Nyiroro Kidul's room at Samundra Beach Resort, Southen Jawa. Yes a room was dedicated to the deity at the hotel.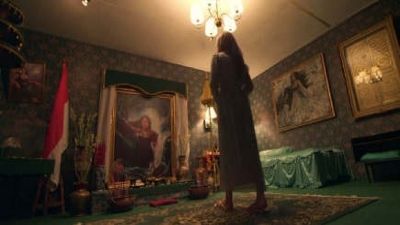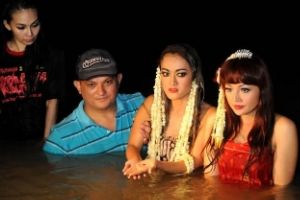 (Photo of a khodamic stone just after materialization gifted by Nyiroro Kidul at beach)
These stones we have were gifted by the deity. The spiritual expert group that extracted these items have close successfully contacted her several times before. As usual this item was raised/extracted through mystical means. According to those that were involved in the extraction this item is a jewel that was kept by those that are of high position in their realm. It is a type of magickal item that is/ was kept and used in the other realm by leaders who were/is involved in communication and negotiation between ministries in their realm as well as those of the other realms and theirs. It has extraordinary powers in negotiation. It is also known as the mark of greatness or leadership. The powers of this item are as such:
- Provides one with power over others, to control and create peace. Excellent for leaders, head of organisations, politicians etc
- Excellent for businessman, business owners, those involved in sales, helps to attract customers.
- Improves the appearance of its wearer provides long lasting young appearance throughout ones life.
- Excellent in matters of attraction, love and interpersonal relationships.
This is a powerful item and we recommend those who have some experience in dealing with items as such to rent this item. This item should be treated with the utmost respect as any khodamic item. Guide book and dzikir process booklet will be provided upon request.
Approximate width 1 cm length 1.5 cm. Pls check with us for stock availability before purchase.
a) Pls. note in regards to Khodamic items, it is our responsibility to ensure that these Khodamic items find their rightful home and are with people who appreciate their latent powers and are able to care for them correctly.
b) Talisman requires time to take effect on a person's life. They also take time to connect with the user. If you're expecting instant results than you must have been mistaken. There is no quick fix.
c) A bond / relationship need to be built between the owner & the Khodam over time.
d) Guidance booklet will be provided to all upon request. For those who are Muslims or practice Islam you can ask for the dzikir booklet as well.
Client experiences;
d) From our experience in selling and dealing with Khodamic talismans we have had clients, who are able to experience, feel & see certain things with Khodamic talismans and some people are not able to feel or see anything at all. This dependent mainly on the person's psychic level, sensitivity to the unseen world. We have had many clients who have been able to experience various feelings and sightings.
Suvrna advise:
e) If you are looking to make a particular purchase and need some advise on Khodamic items, you're welcome to email us for advise on that particular item you're looking to purchase.
Please note:
- We have more than one of this stone/item, they all vary as they are unique items. A photo will be sent to you through request or before dispatch if you choose to pay first.
- Upon confirmation of address, for some items we may ask for your mother's name if you are a male and father's name if you are female to complete the ritual of connecting to keeper.
- Some Items they will be blessed by ustaz one last time before sending.
- If a ring you will be asked about your ring size.
- Our rings are made by hand by village artisans so the finish is not machine-like or western.
- If at any point in the future after some time of trying you find that the energies of the item is not suitable for you, you can plant the item under an old tree or release in running water (river/sea).
- All items will come with a guidance booklet if you so require please let us know. Thank You.
Write Review
Your Name:
Your Review:
Note:

HTML is not translated!
Rating:
Bad
Good
Enter the code in the box below:
There are no additional images for this product.