Khodamic, Spirit Guide, Familiar, 7 Princess stone Elves, Stone extracted from jinn/unseen realm love attraction business talisman 06
About the extraction process
This is a khadamic stone extracted from the parallel realm. These are real modern day miracles but they have been going on for centuries in Indonesia and Malaysia. It is only through the grace of Allah SWT/God that we are now exposing it to the world to benefit all mankind. You can see it for yourself in these youtube links on our website suvrna dot com click on Articles By Us.
It has always been our hope that we can make a difference in our own small way in this world. We are contacted by many people on a daily basis who require khodamic items to help them in their life but they are unable to afford them. In an effort to help people in difficult situations to prosper we are releasing some items at charity prices/cost price.
About these Khodamic Gem Stones
These stones were ascertained from extraction process conducted by Muslim Shamans in Indonesia at certain power spots that allow for successful extraction. They used a Dzikir process for the purpose of ascertaining the location of these stones and communication with its keepers. Through their dzikir process they were provided with the location of where to go exactly and once at the place they communicated with beings from the other realm which are of Orang Bunian (forest dwelling beings) origin. The beings heard their prayers and released these stones to them for the benefit of mankind. From this batch 12 stones were extracted successfully.
Each of this stones have 7 khodams of the orang bunian origin of high ranking/level connected to it. There are 7 female khodams attached to this item that are all female. They are the ones that allowed these items to be released to mankind and have volunteered to assists its wearer but it is only through the mercy of Allah SWT that these items were successfully extracted.
As they are female khodams, these are the main benefits that can arise from this item:
- High persuasive powers.
- High influencing powers.
- Improved interpersonal relationships, love and friendship included.
- Improvement in wealth, prosperity, business.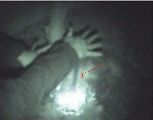 Photo of extraction process
How to use
Stone can be worn above waist level made into a necklace, made into a ring.
Prohibitions
- Do not step over.
- Keep at above waist level, unless of course stone is made into or worn as a ring. If worn as a ring when kept at home place above waist level.
- Do not miss the recommended practice of 1000 flower oil application on a weekly or monthly basis.
- Do not boast about this stone or of its powers even when it has rewarded you.
- One should refrain from showing this stone to people generally (people who don't believe usually will undermine its effectiveness hence providing negative energy - casting the evil eye).
Specifications:
Origin: Indonesia Condition: New Approximate Size: Length of stone: 20 mm Width of stone: 15 mm Thickness: 5 mm Extraction Batch: Extrn11stone06 Free Stuff: Sample 1000 flower oil. Please check with us for stock availability. Thankyou.

Write Review
Your Name:
Your Review:
Note:

HTML is not translated!
Rating:
Bad
Good
Enter the code in the box below: