Empowered Red Lemongrass Gem Stone wth Zirconia Diamonds Attraction Wealth Talisman



Click to enlarge

| | |
| --- | --- |
| Price: | $225.00 |
| Availability: | 10 |
| Model: | LGrassStnRedRing01 |
| Average Rating: | Not Rated |



About this amulet/talisman
This talisman can be used by all religions freely. Lemongrass stones are mystical stones that are extracted from underneath certain special lemongrass trees. They are extremely rare to find. These stones are hidden/kept at certain chosen trees by beings from the other realm mainly forest dwelling elves who use these stones for their own purposes. A sign that the tree contains these lemongrass stones is that the flower is tilted towards the direction of the sunrise. For starters lemongrass trees very seldom flower but if an ordinary person tries to extract the stones they will not be found, only those that are adept in the extraction process will be allowed to access these stones.
Sometimes even the experts struggle to obtain them taking up to 3 continuous days of prayers and digging around the surface. If the khodam that is taking care of these stones allow for it to be removed to the extractor then it will be released, but there is no exchange process and this item is not khodamic, however it has its own natural qualities.
The traits that the lemongrass stone naturally affords to its owner are the following:
-Increases aura range and energy.
-Increases an aura of loving-kindness, which in return improves general interpersonal relationships with opposite/same sex.
-Is said to help in business dealings and attract wealth.
-In the Malay/Indonesian language the two main attributes connected to this items is "Pemanis", this word literally means sweetener, this means that it will make its user more attractive and sweet in appearance and communication with others. Second attribute is "Pelaris", which means it helps to improve/smoothen life in the aspects of business dealings, sales and career.
Item will be empowered for its new owner.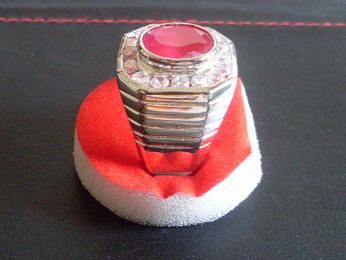 How to use
Can be made into a ring and worn. Can be made into a pendant. Can be worn as a talisman.
Prohibitions
- Do not step over, treat item with respect.
Authenticity test
It is said that authenticity of the gem stones can be tested by whether it is able to stick to certain glass surfaces. No glue was used in the making of these clips and the glass surface was cleaned before hand. However it should be noted it does sometimes take a bit of effort of moving the stone on the surface of the glass before it is able to stick, this is dependent on the stone. Some stick faster than others. It seems, as is visible from the other side of the glass, the stone releases very very lightly what looks to be an oil-like substance, which highly likely enables it to stick to the glass, this of course is uncharacteristic to gems/stones but then again this is a unique mystical item. Because of the weight of the ring it is very hard for the stone to stick to glass hence this test is not applicable to Lemongrass stones on rings.
Specifications
Origin: Malaysia Condition: New Approximate Ring Size: Face Length: 20 mm Face Width: 20 mm Face Thickness Including Stone: 5 mmStone Length: 13mm Stone Width: 10mm Ring Size: 9 This is a comparitively large ring with a bold look, which men might find attractive.
For ring sizes visit this link: http://www.crucible.org/ring_sizes.htm
Write Review
Your Name:
Your Review:
Note:

HTML is not translated!
Rating:
Bad
Good
Enter the code in the box below: