Semar 500 yr old Prince Jinn Spirit Bali Indonesia Talisman Amulet Rare Powerful
About this amulet/talisman
This keris was extracted from the parallel realm. The process was conductd by an Indonesian Shaman in Bali, Indonesia. During the extraction process this item and some other khadamic items were released. To learn more about the extraction from the unseen realm visit our website (web address available in our bio) and click on Articles by Us under Information. The item was verified khadamic (containing a spirit entity connected to it) by a local Malaysian shaman.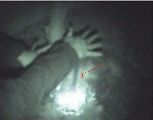 Photo of an extraction process
This keris has connected to it a khadam from the unseen/jinn/spirit realm. This khadamic/spirit item has communicated:
- The Khadam/spirit connected to this item is male and was a Prince during his lifetime.
- His age is approximately 500 yrs old.
- As this item is from Bali its Khadam/Spirit Guardian is of the Hindu faith.
- Willing to relocate to another country overseas.
- God Willing, provides assistance in opposite sex attraction, loving kindness towards people generally, is able to work on charming etc.
- God Willing, provides assistance in matters of wealth & business.
- God willing provides protection from theft.
- Provides protection against entities from attacking its wearer on a psychic level, protects its user from entities that want to attach themselves to certain people.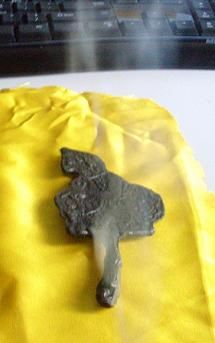 Maintenance
Application of misik oil on Friday evenings and voice intent/wish.
Run the item through frankincense or benjamin gum incense smoke.
For those who are Muslim who "rent" this item a dzikir will be provided to maintain and imbue energy into the item in the long run. For those that are non-Muslims the Gayatri Mantra can be chanted holding the item in the left hand to maintain and imbue the item with positive energy.
If you so choose not to use the mantras or dzikir this is fine. One can merely apply the oil every Friday and incense if possible. If incensing is not possible at least oil application is necessary.
How to use
Carry with you as a talisman at waist level.
Place at above waist level at home.
Place at altar
Note: The energies from this item is strong for those that are sensitive to the spirit world might be able to feel the vibration eminating from it including heat or cold etc. Those that are not sensitive might not feel anything at all. The khadam might appear in various form and sometimes might be captured by the camera, sometimes and more commonly they appear in orb form, sometimes in smoke form as animals, people, if one is lucky a full apparition. They are able to communicate through thought and through dreams.
Prohibitions
- Do not step over.
- Do not miss the recommended practice of oil application.
Specifications
Origin: Indonesia Approximate Size: Length: Approximately 12 cm Width at its widest part 6 cm Free Stuff: Sample bottle of zafaron or misik oil & yellow cloth for covering & Sample packet of black kemenyan (Benjamin Gum) (frankincense)
Write Review
Your Name:
Your Review:
Note:

HTML is not translated!
Rating:
Bad
Good
Enter the code in the box below: