Ajahn Aik, Look Om / Luk Om (SOLD OUT)
"Please do not add to cart if items shows Availability as "OUT OF STOCK" and/or title showing "SOLD"the value of these items will show 0.00 in the cart. One cannot pay for an item that is SOLD. This means very clearly that the product is not available. Certain SOLD product listings & photos are maintained to give customers an idea of what products we have sold in the past and for people to learn more about these products".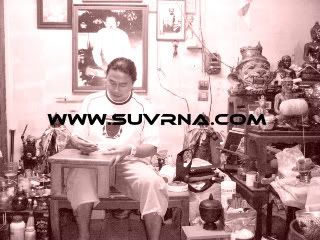 Above, Ajahn Aik hard at work drawing a yant for a takrud
Look Om / Luk Om by Ajahn Aik
When I took this amulet in my hand I was able to feel a vibration from it and expected it due to what I have heard about AJ Aik. Two of my friends received a sak yant from him and one went into trance.
I was surprised to find that this powerful amulet was created to have multiple effects of kongkrapan, klew klad and surprisingly also mahaniyom and mahalarp. In other words it assists in averting danger, invisibility to sharp objects, great popularity and good luck. When I asked for a Katha they mentioned that this particular item does not require one, just concentrate you mind on what you want this item to do for you. It's such a rare item and very few were made 5 pieces were rented by my friends I only have 3 left, so hurry if this item is something you want/need. This is a small yet potent item that does not require any katha/mantra recitation.
It was a real challenge finding Ajahn Aik's samnak. My friends did not have the exact address but merely the vicinity and it wasn't enough. Nobody seemed to know where his Ajahn was located, finally just before we gave up a man in a coffee shop told us he knew exactly where this Ajahn was located. He hailed the motorbike taxis for us and gave the directions to the drivers. When we got to the samnak, it was closed. He strolled to the nearby temple to seek shelter from the scorching sun. There we met the amulet shop owner who had nothing but compliments about Ajahn Aik and she told us how he has helped many in the area but he only opens his samnak in the evening. We waited there and visited the samnak at sundown. Ajahn Aik held no air about himself, he was simple in demeanour and welcoming. Two of my friends got sak yants (holy tattoos) from him. He concentrated on his work ardently and seems to very hard working person. I picked out what amulets I could that were reasonable in price and what I thought people would like and need. This amulet is multi-purpose and does not require a katha.
This amulet is designed to assist in the following aspects:
· Avoiding dangerous situations
· Protection from sharp objects
· Improve loving kindness towards people
· Bring forth prosperous business & career development
Specifications:
Origin: Thailand Condition: New Never Used Date rented from master: Feb 2011 Material: Secret powder amalgamation Size:Circumference: Approx 1 cm Postage cost: Free Shipping Worldwide, cost has been included into final price Casing: USD 7 – plastic waterproof (Not included in listed price, please e-mail if casing is required a special invoice will be issued through paypal with new total price)
Write Review
Your Name:
Your Review:
Note:

HTML is not translated!
Rating:
Bad
Good
Enter the code in the box below: