9 Khodam Fig Tree Batch of Stones Materialized Thru Dhikr Process
About the extraction process
This is a khadamic stone extracted from the parallel realm. During the extraction process when these stones are extracted from the other realm they literally appear in our realm in balls of fire dropping from the sky or sometimes just merely appear in light form glowing in the distance. Those with supernatural powers are able to sense where these stones are and track them down. Sometimes the Shaman who is spiritually adept is able to communicate with the beings from the other realm and is simply told where to look for the stone as it appears miraculously. It may be hard for some to comprehend but facts are facts and what you see from those videos are real. These are real modern day miracles but they have been going on for centuries in Indonesia and Malaysia. It is only through the grace of God that we are now exposing it to the world to benefit all mankind. You can see it for yourself in these youtube links on our website suvrna dot com click on Articles By Us.
There are various methods of extraction, sometimes physical items from our realm are given in exchange for these stones and other times Dzikir or chanting methods are used to communicate and ascertain these stones. Sometimes a combination or both. However sometimes like experienced by the television crew from the documentary we gave the link to they are just gifted out of the good heart of those beings from the parallel realm. When the Shamans/spiritual experts are asked why the ball of fire appears, they say that it is because of the friction from our realm and the parallel realm causes the fire ball when the items are coming through. These stones are usually kept by beings in their realm and empowered by those beings. They are either gifted by those beings or exchanged in return for something from our realm.
Orang Bunian are a hybrid race of beings created out of the fire and earth element by Allah/God. The composition of their essence/spirit according to them are part human, hence they have an affinity for humans. In South East Asia there have long been sightings and stories of these beings literally living side by side with human beings. Some have even married humans and there are stories of these beings having children with humans. Some of them can make themselves visible to humans and live among us, they look like humans hence no one can tell the difference. There is much to explain about the beings within this realm and other realms including the various types of Jinns, visit our website suvrna dot com and click on Articles By Us under Information to learn more.
About this Gem Stone
This stone was ascertained from extraction process conducted by a group of religious people and a pious Muslim Shaman. They used a Dzikir process for the purpose of ascertaining the location of these stones and communication with its keepers, which is different from usual methods used by some Shamans. Through their dzikir process they were provided with the location of where to go exactly and once at the place they communicated with beings from the other realm who were of Orang Bunian (forest dwelling beings) origin. The beings heard their prayers and released these stones to them for the benefit of mankind.
According to shaman, this is item is powerful in protection and the help it renders but it must never be misused by people for negative gains ie.stealing, cheating, killing causing harm to others intentionally. According to the shaman the item has 9 khadams of the orang bunian origin of high ranking/level. The khadams have communicated that there are indeed 9 of them and they say they are all female and are Muslim.
According to the shaman there are 3 main benefits that he feels can arise from this item:
- High persuasive powers.
- High influencing powers.
- Increases inner energy power.
Effects that we found from others stones of this batch (extrn04) through use:
- Increased spiritual power, a close feeling to God/Allah SWT.
- Increased heat coming through the hands during dzikir.
- Heat emanating from the stone during dzikir practice.
- Increased prosperity and feeling of wellbeing.
- Improved interpersonal relationships.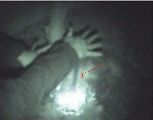 Photo of extraction process
This is a one of kind stone, although it may look in appearance similar to the others of this extraction batch but they are all different in shape, size or other features. Please understand that these are not items produced in a factory or even mined, they are gifts through the grace of Allah SWT/God from beings of the other realm. Once this item is sold that is it, whoever has the fate to own it is blessed.
We are lovingly naming this batch the "Fig Tree" batch because of the way they look under light. It looks like there is sea weed or part of a fig tree entrapped inside the stone. It is truly quite unique. Below is an example of one of the fig tree stones.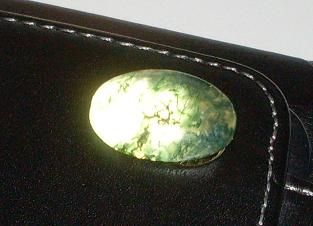 How to use
Stone can be worn above waist level made into a necklace, made into a ring.
Instruction Manual will be provided with some simple techniques on how to better connect with the stone's khadam and maintain the stone. The most basic maintenance of this item requires application of 1000 flower oil on a weekly or at least monthly basis, followed by voicing intent (what you want). Item is to be kept with a few grains of glutinous yellow rice/glutinous rice, if rice breaks just change it. Item comes with a few grains of glutinous yellow rice. Spirit beings are able to understand telepathically when we communicate with them through our thoughts. Language is not important, although we ask people to verbalise their intent when holding the stone. These beings are able to understand our thoughts and merely speaking clearly and loudly in our own minds is sufficient to communicate with these beings but some people may prefer to voice their intent.
Note: Before you rent (purchase) or if you have questions about this item please read the FAQ section on our website suvrna dot com first. Although maintenance is simple this item might not be for everyone as the energies that emanate from it may be strong or too strong for some. It is normal to feel the intense heat coming from the stone when holding it. It does not mean that the khadams are angry with you, it just means the energy emanating from the stone is strong and that you are sensitive enough to be able to feel it. It is more or a gift than anything else, some people don't feel anything. If you can't get use to wearing it, then leave it somewhere above waist level at your home, business premise or office, apply oil as recommended.
This item was not created by a shaman where spirits of this realm like ghosts are bound to the stone/item, this item is naturally khadamic. These beings are not ghosts from our realm. These beings that treated (empowered) these stones for the betterment of mankind choose to work with you out of their own will. So treat them with respect and as your guide and friend but remember that no being is above the Supreme God Almighty/Allah SWT.
To learn more about Khadams and extraction of heritage items from the parallel realm, visit our website suvrna dot com and click on Articles by Us under Information on our homepage.
Prohibitions
- Do not step over.
- Keep at above waist level, unless of course stone is made into or worn as a ring. If worn as a ring when kept at home place above waist level.
- Do not miss the recommended practice of 1000 flower oil application.
- Do not boast about this stone or of its powers even when it has rewarded you.
- One should refrain from showing this stone to people generally (people who don't believe usually will undermine its effectiveness hence providing negative energy - casting the evil eye).
Specifications
Origin: Indonesia Condition: New Approximate Size: Length of stone: 20 mm Width of stone: 12 mm Thickness: 5 mm Extraction Batch: Extrn04stone06. The original photo on the website will be maintained to give and idea to our customers on of how these stones look like. We have new batch of stones for 2017 onwards and will be made available to our customers. A photo of the latest batch of stones will be sent to you for your confirmation of the stone of your choice that catches your eye before purchase or after purchase. Name of Chief Khadam has been revealed and will be provided to its owner only. Free Stuff: 1000 flower oil sample bottle + small packet of yellow rice.
Shipping & Handling
Combined shipping possible, message us for special rates. Free Shipping for the second item or more. We ship worldwide and no handling cost charged. We ship within 6 working day for this product upon payment and confirmation of name & address received. First Class International Registered Air Mail (tracking number provided for all shipment) will be applied to all sales. Tracking Number will be provided as soon as shipment is sent. We ship according to PayPal ship to address only. Please notify us if there is a change in ship to address. If you require International Courier Service, please contact us for the charges to your country or destination.

As mentioned all items are sent with tracking numbers. Seller will not be responsible for product once item has been posted. If you require insurance please contact us for a quote. At present local pick up is not available.
| | |
| --- | --- |
| Region | Estimated Delivery Time |
| Asia & Australasia | 7-10 days |
| U.K & Europe | 10-15 days |
| U.S & Canada | 15-18 days |
Customs
The onus is on the customer to check if there are any customs duties or related fees for a product prior to purchase, we will not be held responsible in the event any fees are levied on the client in their country.
Return Policy
Customers must seek prior approval for any returns. If item condition is NOT as per described, then only will money be returned. We offer a seven days money back guarantee, which means return dispute has to be raised within 7 days of item being received by buyer. Return postage is born by buyer. Refund will be made within 7 days of item being received by seller in an unused and new condition, items must be in packaging and shipping must be via first class registered air mail with tracking number. A 14% restocking fee applies to all items returned.
If you have any questions do not hesitate to contact us.
NOTE : This item is also being listed on ebay, if there is an active bid for this item at the time of purchase, then money will be returned in full to purchaser of this item.
Write Review
Your Name:
Your Review:
Note:

HTML is not translated!
Rating:
Bad
Good
Enter the code in the box below: