Powerful Khodamic Real Black Centipede Bezoar Pearl Stone from head section Rare Item (order now)
About Us
We are a group of 4 friends of different faiths that have come together to make accessible to the world high-quality powerful amulets/talismans that are sourced directly from spiritual masters and experts in Asia.
About this bezoar talisman/amulet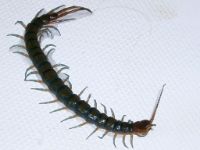 Scorpion and centipede bezoars are highly prized commodities in Malaysia and Indonesia. Centipede and scorpion bezoars are the most popular and most highly sort after amongst bezoar collectors. Mainly attributed to their varied uses and powers. Many claim that they are able to see through items using these bezoar stones, hence it is used by many gamblers. It also helps interpersonal relationships, social interaction. Generally it provides speculative luck. However there is one claim that most people do readily experience which is a tingly feeling that comes from the stone also some feel like a centipede or scorpion is crawling on their skin. It is also commonly kept by those in power and wanting power over other such as politicians. It is said that the power of the centipede is able to scare almost even the mightiest of animals.
It should be noted that this bezoar is different from those found inside the body of the insect. It is even more rare than those found within the body of the insect because it is produced by very few centipedes at its and has a magickal aspect to it and is not merely a bezoar stone. This particular bezoar centipede stones come from a black colored centipedes and it is also black in color unlike some other centipede bezoar stones. This particular set of centipede bezoar stones comes from the mouth/head section of the centipede. According to our shaman and experts the benefits of the scorpion bezoar are the following:
- Wards away evil spirits & black magick protection.
- Strong protection against Iblis, demonic spirits.
- Speculative luck.
- Wealth attraction.
- Helps imbue the personalities of the centipede : speed and ferocity.
- (Pemanis) Sweetener :improves interpersonal relationships with people.
- (Penyeri) Improves appearance, improves aura.
- Some are able to read the thoughts of others when using this item.
- Strong influential powers over others.
- Increases submissiveness to user.
- Repels venemous animals
They are naturally khodamic, meaning having elemental spirits or others connected to them. They can be communicated with using a psychic however some even ordinary people are able to feel their powers merely by just holding them. They emit a vibration that can be readily felt by many. Some may feel the vibrations strong and hence unable to even wear them but through time of attuning themselves with the energy it will attune itself. There is no need for activation as all items are prepared and empowered by our shaman/ustaz before they are sent out to customers. However we will provide you with an Instruction Manual/Guidance booklet on care, maintenance and power restoration for Khodamic and Spiritual items.
To learn how to empower yourself and items further you might want using techniques passed down from generations of spiritualists in the Malay achipelego click here.
Specifications:
Stone size: about the size of a dried green peas and come with a few grains of yellow rice. Free items: Sample 1000 flower oil, yellow rice and free wafaq casing as seen in photo, Shipping: Free Shipping Worldwide. Market Price: USD 1400 upwards. Please be careful of people claiming to have real centipede stones. Centipede's are tiny creatures their pearls/stones cannot be larger than themselves.
Write Review
Your Name:
Your Review:
Note:

HTML is not translated!
Rating:
Bad
Good
Enter the code in the box below: